The California Heights Historic District, with some 1,500 homes within its boundaries between Wardlow and Bixby roads and Lime and Gardenia avenues, is the largest historic district in Long Beach. Cal Heights is a quiet neighborhood lined with old shade trees and sharing borders with Bixby Knolls and Los Cerritos.
The neighborhood was established on Jotham Bixby's farmland in Rancho Los Cerritos, subdivided between 1920 and 1929 and was developed from west to east, with the result being a sort of architectural timeline, with the homes in the western part being predominantly Spanish Colonial Revival from the 1920s and 1930s and, toward the east, Neo-Traditional style dominate with their fixtures and ornamental touches—non-functional shutters, weather vanes, cupolas, towers, round or arched windows—evocative of older styles without outright copying them. These relatively newer residences were built in the post Depression and post-World War II years to as recently as the late 1940s.
The California Heights Historic District, as it was originally established in 1990, was meant to honor the significance of the architecture of the older homes, and it was expanded in 2000 when the Neo-Traditional homes were deemed to be historically significant as well. The expanded area took in the three easternmost blocks that included Gaviota, Rose and Gardenia avenues.
And it's at 3461 Gardenia Ave., at the very edge of the historic district, where you'll find a home that's on the market for $1.048 million by Nate Cole, of Unique California Properties.
What makes the 1939 three-bedroom, 1.75-bath home unique is its meticulous and thorough renovation by designer Steve Jones of Bettershelter in 2011-12.
Though Jones' business is flipping houses, to call him a flipper is to be, well, flippant. Rather than throw up some paint and a new roof and roll out some new sod on the lawns, Jones brings an artist's flair to the properties he improves, staging them with art and quirky items he finds at flea markets and yard sales. And he's very selective about the houses he selects to renovate. Though he and his team generally do homes in Los Angeles, Jones says he's done a handful in Long Beach.
"I love Long Beach, oh my God," said Jones.
"There are so many styles of architecture there and some beautiful homes.
"We're always drawn to homes that were built in the 1920s and 30s. We love to try to maintain the architecture's authenticity and integrity and try to add or bring back some of that integrity that maybe has been stripped off during the life of the house." In the end, says Jones,
"We want to try to fit in rather than stand out too much."
Jones bought the home in July 2011 for $330,000 and sold it in July 2012 for $550,000. Among his renovation work was changing the ceiling in the living room. "We noticed the house had a peaked roof, but the ceiling was flat, so we tore that up and peaked the living room ceiling."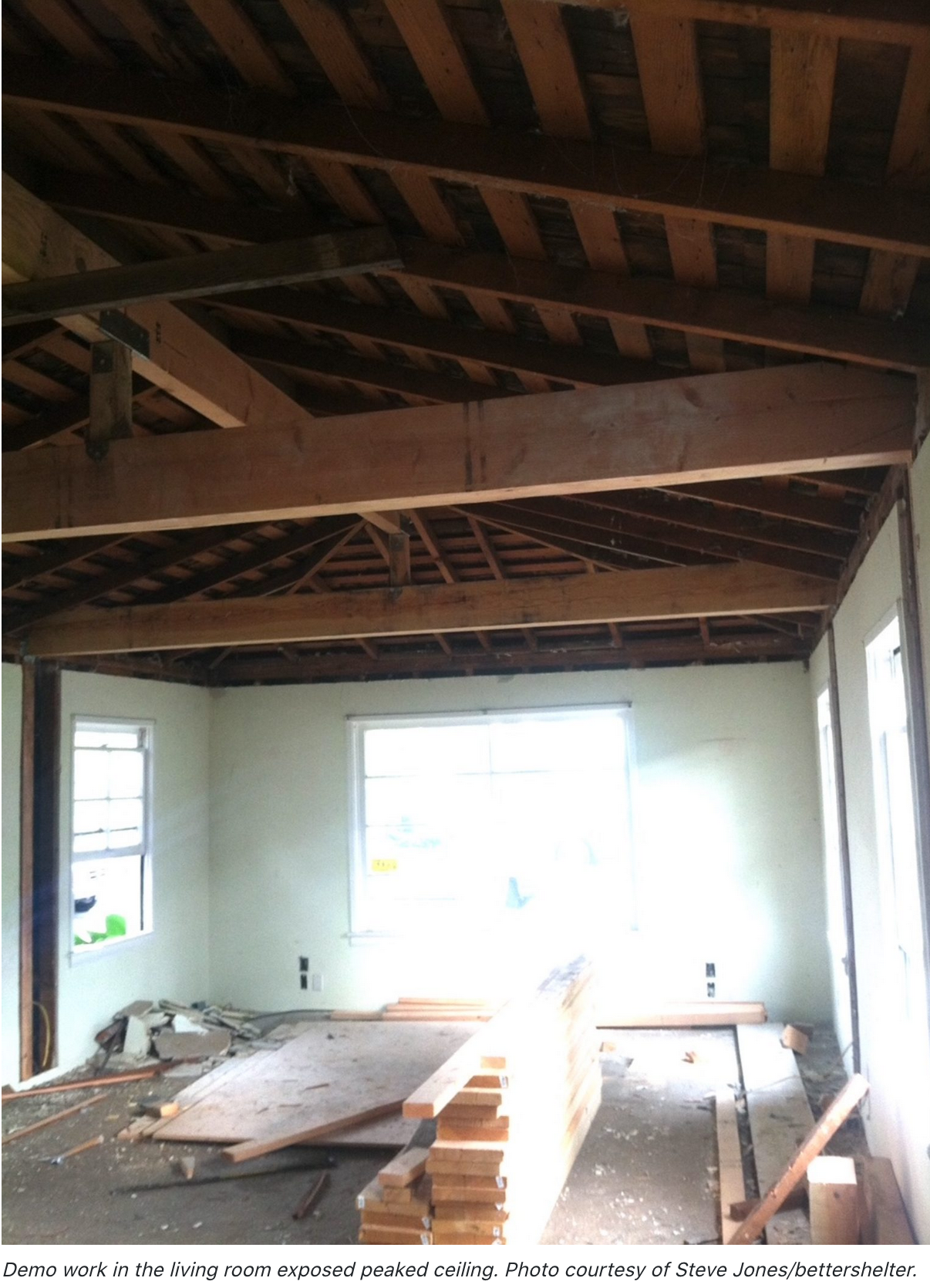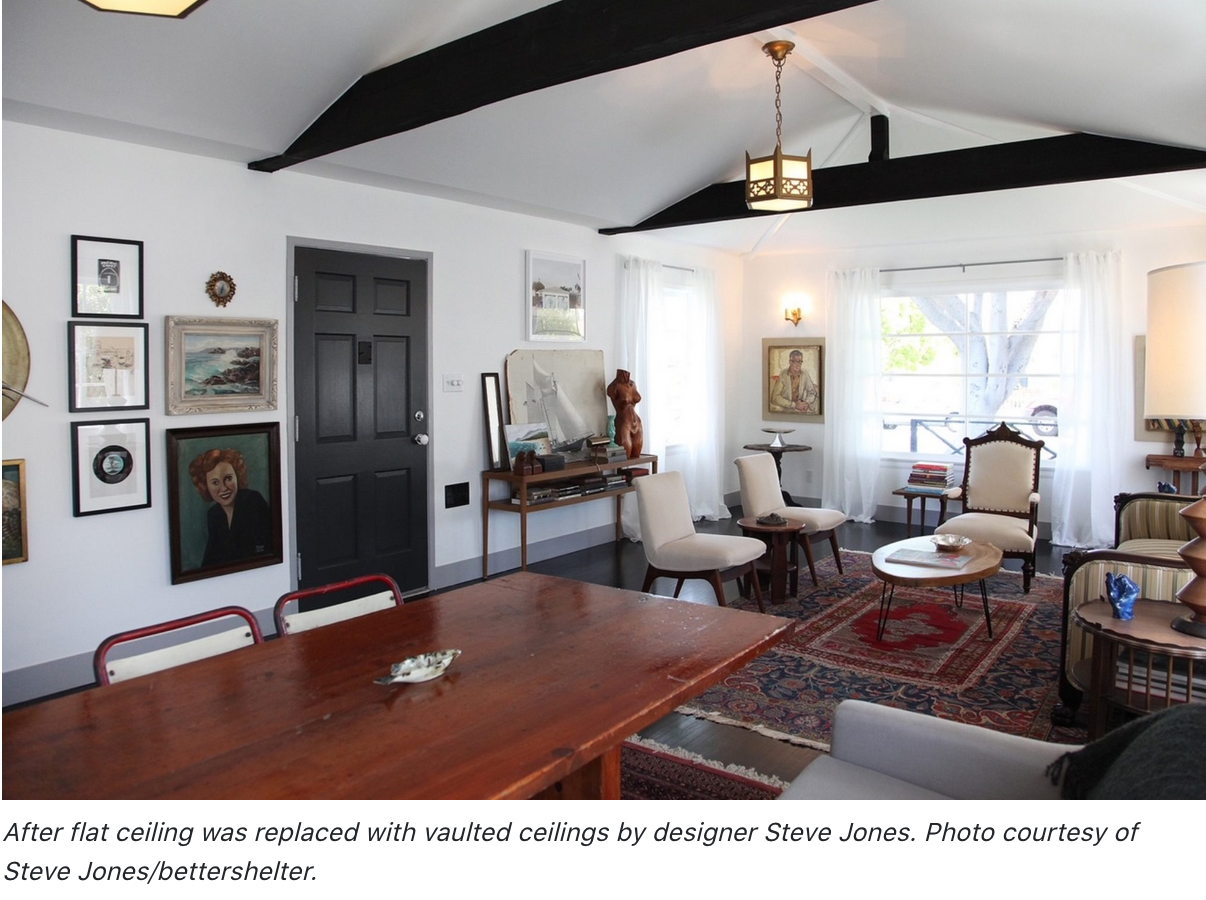 He added a third bedroom and a full bath, and there was a side building next to the garage that he converted into an office, which, says Realtor Cole, is a huge selling point in the age of COVID when so many people are working from home.
The house has been well maintained in the last decade. Cole said the owners have improved it, "and they have great taste."
The house, now with its vaulted ceilings, has large windows overlooking garden views. The flooring is dark-stained and the white
ceilings are sectioned with dark-stained beams.
The kitchen has custom cabinetry, Carrara marble countertops and direct access to a large, sunny patio deck. The master suite also has vaulted beamed ceilings as well as a walk-in closet, dual-pane wood-trimmed windows and French doors that open to the private rear patio.
Attached to the home's two-car garage is the 200-square-foot office/studio that can be converted to an ADU and its French doors open
to vegetable gardens and a mature orange tree.
Among the current owners' improvements include newer HVAC, electrical, copper plumbing and irrigation and landscape lighting.