Arguably, when architectural historian, author and restoration expert Ted Wells bought the home for a smidge under $2 million in 2005, he never dreamed it would take nine years to restore the early Craftsman-styled house. The architecture for the house – more commonly referred to as the Reeve-Townsend home – is seen as a first example of period work that the Greene brothers later refined with the more famous Gamble Housedesigned for David and Mary Gamble of the Procter & Gamble Co.

"I want to continue their legacy," said Wells, a Laguna Beach resident. "I try to restore stuff."
His résumé is like a Who's Who list, including a Frank Lloyd Wright home.
He first laid eyes on the house in 1987, when he was attending the wedding of friends along Country Club Drive.
"It was a rainy day," he recalled. "I drove past this house and remember how dark it looked."
To improve the curb appeal, first projects were cutting down huge ficus trees and removing steel bars over windows. A color palate reflective of early 20th century colors was pulled from a book that is oftentimes used to display colors found in nature, called Munsell's color book. Inside walls and ceilings have been painted soft hues of blue, green and tan. The Gamble House was done in 1908, but the Reeve-Townsend home was completed four years earlier. It was built on Ocean Boulevard but moved twice before finding its current spot at 4260 Country Club Drive in 1923.
It was originally commissioned by Jennie Reeve in 1903 and represents one of the first residences for which the Greene architects pursued a
comprehensive approach to design that encompassed furn ture, lighting fixtures and the look of the house itself, Wells said. In historical accounts, Reeve was described as a progressive businesswoman in real estate and investments, a civic leader and the founder of the Long Beach Public Library. When Reeve died in 1911, the house was moved to Third Street and Cedar Avenue, where it sat on blocks until 1917.
That's when V. Ray Townsend, a doctor, recognized its value and snatched it up. He had one of the Greene brothers supervise the home's move to the Virginia Country Club location, rolling it up Pacific Avenue from downtown. Over the years, the home fell into disrepair. A jungle grew up around it, and some of the wood became dinged and worn-looking and didn't match original designs. Some restoration was completed before Wells came along.
When Wells bought it, he hired contractors and landscapers to make over the home by relying on original drawings and scraps of paper that the Greene brothers used to scribble out the design. The Greene records were originally found in a garage in the San Fernando Valley some years back and donated to the Avery Architectural and Fine Arts Library with Columbia University, which is where Wells combed through boxes to begin his restoration project. He had the swimming pool filled in with dirt, and he bought rare Port Orford cedar for paneling and other numerous
interior projects. Some of the home's notable features include the installation of an underground grid of water lines that feeds vegetation with tiny droplets of water, a rose garden added to reflect an original one, re-porcelainized bathtubs and 7,000-pound oak trees lifted into the front lawn.
Wells, who was born in Bixby Knolls, said he hopes to wrap up work on the National Register of Historic Places-listed home later this year. Wells doesn't live in the house, but a caretaker does while restoration work is underway. A mattress has been tossed down on the second floor.
"I like this jewel," Wells said.
He hasn't yet figured out future plans for the house.
Excerpts from an article titled: Virginia Country Club a Close-knit Community
By Pat Maio | Orange County Register February 10, 2014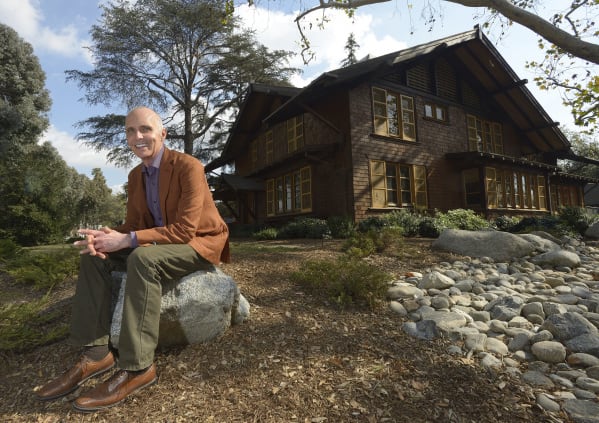 Ted Wells
Credit: STAFF PHOTOGRAPHER Copyright: © ORANGE COUNTY REGISTER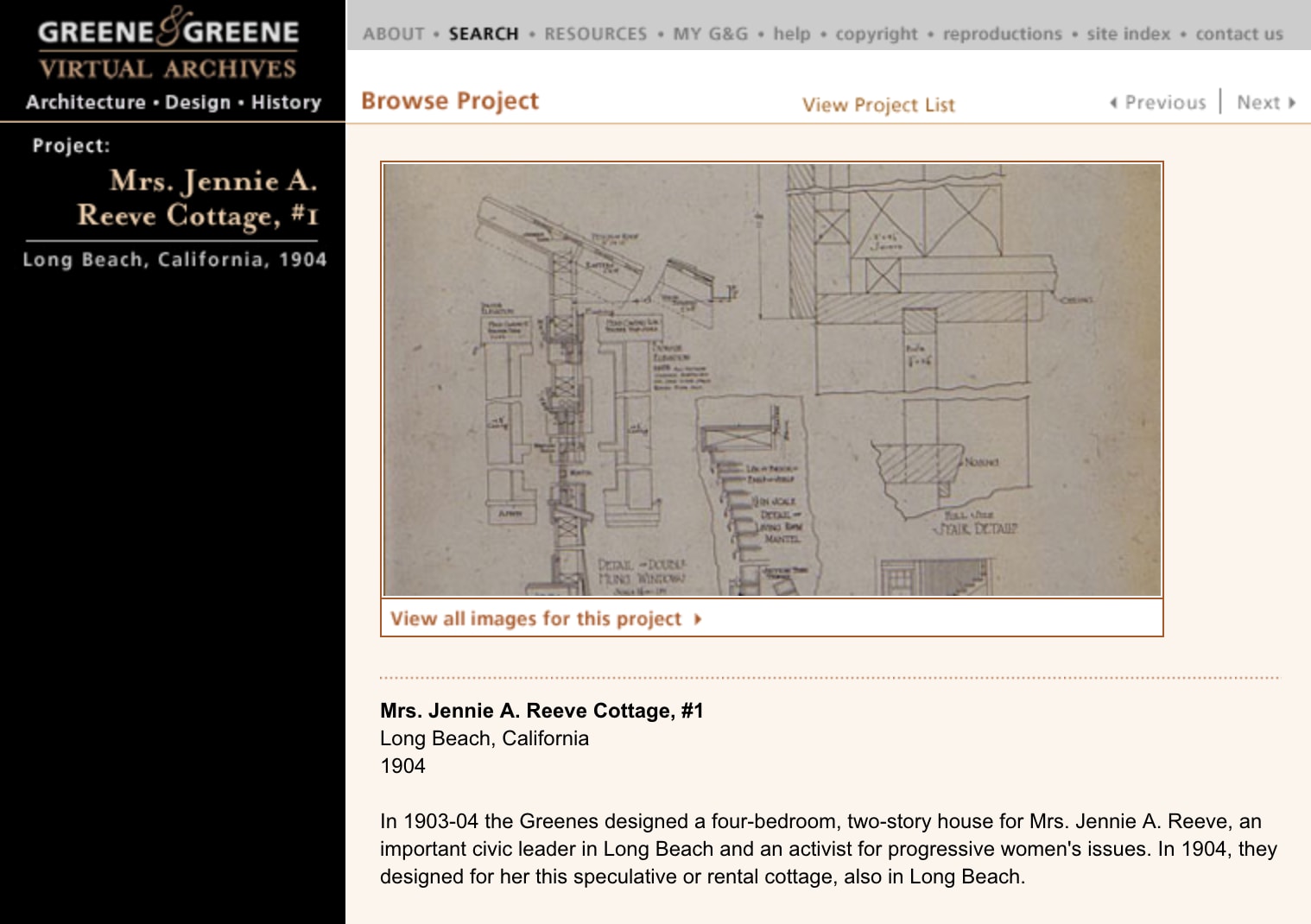 Mrs Jennie A. Reeve Cottage, #1 (Not the Reeve/Townsend Home). I am not sure if this was ever built.
Landscape window from the entry hall of the Jennie A. Reeve-Townsend house, Long Beach, California , ca. 1904
Staircase detail at the Reeve Townsend House in Long Beach, CA. A Greene & Greene Craftsman.
Dining room cabinet detail at the Reeve Townsend House in Long Beach, CA. A Greene & Greene Craftsman.
Greene & Greene -
Double Sconce. Port Orford Cedar, Glass and Lead Came. Designed for the
Reeve-Townsend House, Long Beach, California. Circa 1904
Exterior of Jennie Reeve/Townsend House


Before the house was moved to Country Club Dr.

(courtesy of The Greene & Greene Archives, University of Southern California
Huntington Library, Art Collections and Botanical Gardens)