CLICK ON TILE PIECE BELOW FOR AN INTRODUCTION TO ERNEST A BATCHELDER




Ernest Batchelder: Educator, Designer and Tilemaker
Alice Coleman Batchelder: Accomplished musician
E.A. Batchelder in the process of spraying pottery


Ernest A.Batchelder. Design In Theory And Practice (Kindle Locations 11-13). The Macmillan Company.
IT is the aim of this book to be helpful, — not only to teachers and students who may be directly interested in the subject, but to the many others who feel the lack of a criterion or standard to assist them in forming a judgment in questions of design.

Print Ad | Batchelder ◊ Wilson Company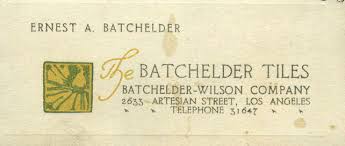 TRADE CATALOGS AND FOUNTAIN DESIGN
Alice hosted chamber music concerts under the oak trees.


The Batchelder House
A historic home built in 1910 and located at 626 South Arroyo Boulevard in Pasadena, California. An important center of Pasadena cultural life in its day, the home was designed and built by Ernest A. Batchelder, a prominent leader of the Arts and Crafts Movement, and his wife, Alice Coleman
The chimney in Batchelder's Pasadena home was a wedding present for his wife, Alice Coleman Batchelder.

Photo by Myung J. Chun/Los Angeles Times via Getty Images | LA Curbed

MAYAN TILE PANEL

c.1928

Batchelder Bungalow, Pasadena, CA






As Pasadena architects Charles and Henry Greene were producing innovative home designs that defined California's signature Craftsman style, Batchelder was close by, making tiles in a backyard studio

E A Batchelder with Grandson

'Grandpa Looking For Business'

Robert W. Winter
Architectural historian and Batchelder tile expert; One time owner of the 'Batchelder Bunalow' in Pasadena, CA

THE DUTCH CHOCOLATE SHOP
Ernest Batchelder's earliest commissions and one of the largest existing collections of his work
This 105-year-old restaurant is a secret, tiled masterpiece. And it's up for sale



The Dutch Chocolate Shop in its early days served hot chocolate, tea and light meals.




(Carson Elder)



Elaborate tilework by renowned Pasadena artist Ernest Batchelder decorates the long-closed Dutch Chocolate Shop, which occupies the first floor of a downtown Los Angeles building.




(Genaro Molina / Los Angeles Times)