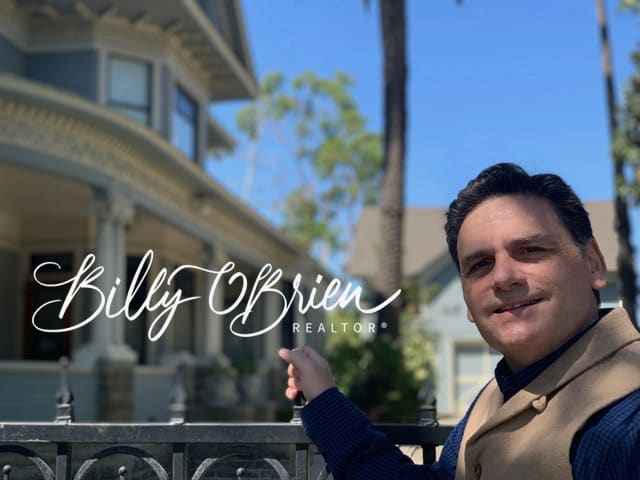 Why Should I Work With Billy?

Working in real estate is his greatest passion. Billy has integrity, energy and will work hard and creatively in every detail of your real estate transaction. Cultivating strong relationships with his clients and vendors is his priority. He's been helping folks buy and sell homes for the past five years. He will be committed to you before, during and after the closing of your home purchase.
About Billy:
Billy brings a creative and innovative approach to the team. His amazing eye works wonders when it comes to staging properties before tours – they look even more impressive thanks to Billy's outstanding imagination.
Billy grew up in Orange and LA Counties and started helping people at a very young age. From his beginnings running a paper route, he has now spent over 30 years in front of clients, carefully listening to their needs and together creating solutions to help them accomplish their goals. Billy fell in love with Long Beach's historic homes while spending a year helping his sister and brother in law find their forever home.
'We hunted all over Long Beach – From Carroll Park to California Heights. In the end we fell in love with a 1928 Spanish Colonial Revival home in Wrigley.'
Since this time Billy has been on a mission to learn about Long Beach's history along with Its 18 Historic districts. Billy owns a 1921 Mission home with his partner and two cats. They have lovingly restored their home and enjoy sharing their knowledge with others.
Billy is building a successful career as a REALTOR®. He has a deep commitment to helping people find for their first home. He will go where his clients go in search of a home that is perfect for them. He has helped buy and sell homes in Orange, LA and Riverside Counties – from a two million-dollar Venice beach home to a $815K home in Long Beach.
What Makes Billy Special?
A fierce dedication to providing exceptional, personalized experience for all of his clients. He takes great pride in the relationships he builds and always works continually, on his client's behalf, to help them achieve their real estate goals
Persistent when fighting for his clients' best interest – Billy won't stop until you find your perfect property. When selling your home he will use his negotiation specialist skills in order to secure the highest and best offer.
Making the real estate processes as easy, smooth, and enjoyable as possible – Billy's extensive knowledge of the local market enables him to assure your experience is pleasant and stress-free, every step of the way.
Billy believes in education and is continually expanding and refining his knowledge to be current and relevant for his clients.
Member of:
Historical Society of Long Beach
Long Beach Heritage
California Preservation Foundation
Cal Heights Neighborhood Association
Long Beach Museum of Art
Bluff Heights Neighborhood Association
Belmont Heights Community Association
Stickley Museum at Craftsman Farms